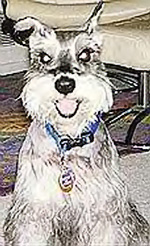 Skipper
I realized tonight that I needed to add some of my unusual/psychic/mystical experiences. Please know that I am NOT special because I've had these strange experiences, nor am I some wise, all-knowing being who can glow in the dark and see thru walls. No, not at all. What has happened to me, can (and does) happen to a lot of people. I'm going to risk being called "cracked" by sharing some of these happenings, starting when the experiences began happening to me in mid-1992.
Okay, here's one of my favorite experiences. A friend of mine was leading a retreat for about 15 people at a beach house in Pensacola, FL. The first morning I was the up with the sun. No one else was stirring. I quietly fixed myself a bowl of cereal and sat out on the deck enjoying the view of the Gulf of Mexico. I had just lifted my full spoon, moved it towards my mouth, when I heard a voice say "The food stinks." I was startled and looked all around. I even checked inside the house to see if there was a prankster, and no one else was awake. I shook my head, sat down, and started to eat my breakfast again. This time as the spoon neared my mouth, a voice shouted "The FOOD STINKS!" The first thought that came to my mind was maybe it was my dog? I'd left Skipper at his veterinarian's kennel. I got up, called their office, and spoke to the vet tech who was in charge of boarding animals. She said "Oh thank heavens you called. We can't get Skipper to eat a thing!" She told me what they'd been giving him, and I instantly knew that he didn't like that stuff. I suggested some canned prescription foods. Within a few minutes, she called back to say Skipper had eaten everything. That was the first time I became aware that my dog and I were really in direct mental communication with each other even though we were separated by over 470 miles!
Another morning I was home and lounging in my warm, cozy bed. Skipper was already up, and I heard him speedily shoot out of his dog door to the backyard. All of a sudden I knew he had hurt himself. I saw him, with my third eye (psychic vision), carrying his back right foot and limping behind my swimming pool. I jumped out of bed and dashed to the kitchen. Looking past the pool, thru the screened enclosure, I could see him making his way back towards the house with his injured foot held up, dangling in mid-air. I ran out and scooped him up. Soon we were at the vet's office, and he said "Skipper has broken a toe so badly that we must amputate it." (He did have the surgery and had a long, uncomfortable recuperation due to phantom pain.)
Both of these experiences made me note that this dog and I had a really special bond. I pondered it and realized that since my husband's death, I had no one to talk to in the house. But then I noticed that even though it was outwardly quiet in my house, Skipper and I were communicating a lot. It took a lot of investigating on my part before I noticed that he was communicating by pictures most of the time, but when he really wanted my attention he'd speak!
If you have an interest in pet communication, you might enjoy the books "Kinship with All Life" and "Letters to Strongheart" by J. Allen Boone. He became psychically attuned to the very famous German Shepherd named Strongheart, who played RinTinTin in the movies. Their friendship opened Boone to a variety of animal communication experiences.