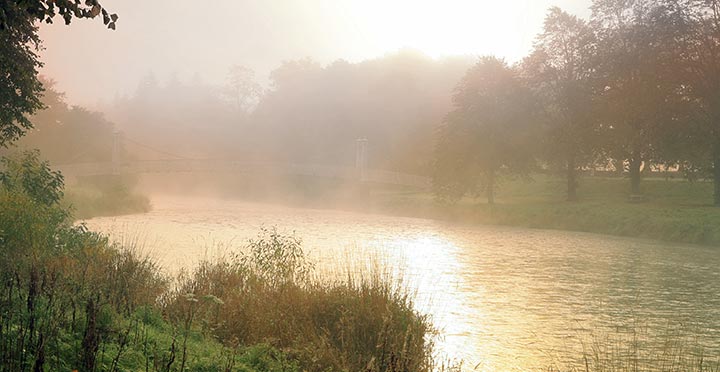 Every morning I am up early. For the past few years that meant getting up at 4:30 a. m. Why? Well, I like to enjoy the vast, utter, deep silent stillness that pervades the world at that hour. It is such a richly quiet and absorbing time. Sometimes I have heard what I can only term "the thundering silence." That's when it's so very quiet that it almost hurts my ears to hear nothing.
These days I'm still getting up at 4:30 a. m. It's easier for this working person, but it doesn't quite satisfy my lust for peace and quiet prior to the start of each day. So why bother getting up at that hour of the morning? For me, it had been a big part of my life since 2004–2008 when I managed a retreat center that shared the grounds of the Carmelite Monastery in New Mexico. The nuns were up every morning at 4:30 a.m. when their bell would ring to call them (and later me) to morning meditation and prayers. I was not Catholic; I am Presbyterian, but I certainly was open to sharing the silence with these dear friends.
Well, you might ask, now what on earth do I do at that early hour? I listen. I listen to every single sound possible. From the first chirping bird to the chirps of the whole flock, to passing trains, tug boat and ship horns, the wind and the rain…. Why? Because the gift of this practice is absolute peace before my day gets going. IF I've started the day peacefully and unrushed, then I can face whatever comes my way.
Besides listening, what else do I do? Well, nothing really. I relax in my recliner, sip my coffee, and just notice what's happening within myself. I observe. Do you ever take the time just to sit and do nothing? It is so healing and helpful. You might be surprised at the beautiful thoughts that come to your mind. You might get inspiration on work projects, how to help a friend, or what to do with your life. No matter, it's YOUR quiet time. It is time used to remember to slow down, smell the roses, and enjoy the spirit of contemplation and quiet observation.
There is something deeply sacred about silence. A shared silence is one of the most intimate times of all life. Being quiet while everything around us is chaotic is enriching for ourselves and others. Maybe you'll make time, at any time during your day, to sit and be still. Even if you only have five minutes, it's a great investment of that time.
Peace be with you….
There is no need to go to India or anywhere else to find peace. You will find that deep place of silence right in your room, your garden or even your bathtub.
–Elisabeth Kubler-Ross, M.D.
Silence is the whole supporting backdrop for every single event of this world. Each night the world is cloaked in silent darkness and cleansed for a bright new day.
–Lynn Van Gundy
---
Copyright ©2014 Lynn Davis Van Gundy. All rights reserved